Projectors for
safety signage
The safety signs visible even in strong lighting conditions and in workplaces where the floor is subject to easy dirt and continuous foot traffic.
Discover our new site about Safety Signage
choose the most suitable projector
How the projection of safety signs works:
Projected signage requires only an image projector, called gobo projector and an image holder called gobo. The gobo placed inside the projector is comparable to a slide, but much more resistant. The projector is installed in a location adjacent to the projection area, such as the ceiling. The chosen safety message is then projected onto the surface, clearly visible even in strong lighting conditions.
For safety signage projections, Goboservice has designed and produced entirely in Italy, the new line of Signum Led projectors, designed for signage projections in the industrial sector, able to guarantee perfect visibility of the signal in all conditions, maximum reliability and safety.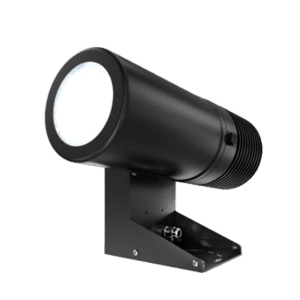 It is the ultra-powerful compact LED projector designed specifically for image projection under the most severe conditions.
The projectors are certified according to the standards:
2014/35 / EU – Safety of Low Voltage Powered Equipment (LVD)
2014/30 / EU – Electromagnetic Compatibility (EMC)
2011/65 / EU – Restriction of use of certain hazardous substances (RoHS)
2009/125 / EC – Ecodesign requirements for energy related products (ErP)
2006/95 / EC – Photobiological safety
Why use a Gobo Projector
Long duration – no trampling wear.
Economy of use – eliminates the need for repainting or the purchase and installation of new adhesives.
High visibility – attracts more attention.
Ease of updating – just replace the gobo when you need to project new signage.
A product of excellence
The Signum series stands out in the field of industrial signage projections for:
high efficiency due to the highest lumen/watt ratio in its class;
The sharpness of the projected signal;
maximum reliability: 2-year warranty.
They have already chosen us
The Signum is already used by several companies within their factories, among the main ones:
Ferrero spa
Electrolux Italia Spa
Philip Morris
Renault Douai
Universciences
Suez
Bericap
Porsche
Sncf Gares & Connexion Paris Saint Lazare
Stelia Aerospace
Schindler Supply Chain Europe AG
A professional guide to the most suitable choice
The Signum series is available in different models with a wide choice of optics and powers to guarantee the most suitable solution in every environment. The choice must be made according to the projection distance, signal size and ambient brightness .
Using the photometric diagrams (downloadable in the product sheet of each model) it is possible to obtain, depending on the projection distance, both the size of the projected signal and the level of illumination generated by the projector.
Our technicians are available to provide all the details relating to every single need.
CONTACT US NOW
FOR A QUOTE
Send your request for a quote and we will get back to you within a few hours!