It is the very powerful and compact LED projector , specially designed for image projection under the toughest conditions (e.g. in permanent outdoor installations or in industrial environments). Thanks to its functional and innovative design, it also finds application in all those areas where it is necessary to project images, logos, signals, photos with high quality.
The absence of fans and the IP65 protection allow its use even in dusty environments or outdoors for extended periods of time, with a LED lifespan of 50,000 hours.
Of the Signum, the real surprise though in such a small projector is its brightness.
With its 1895 lux at 5 meters (in the 50W configuration with 18° optics), it stands as the absolute best energy-efficient still-image projector among all those on the market today.
Power supply
110-240V 50/60 Hz
COB LED high efficiency white
color temperature: 6.000 K
Led average life: 50.000 hrs
Luminous Flux: 4,000 lm ( Signum 25W) to 7,100 lm (Signum 50W) to 9,600 lm (Signum 75W)
Optics
Dimensions
Accessories
The safety signs visible even in strong lighting conditions and in workplaces where the floor is subject to easy dirt and continuous foot traffic.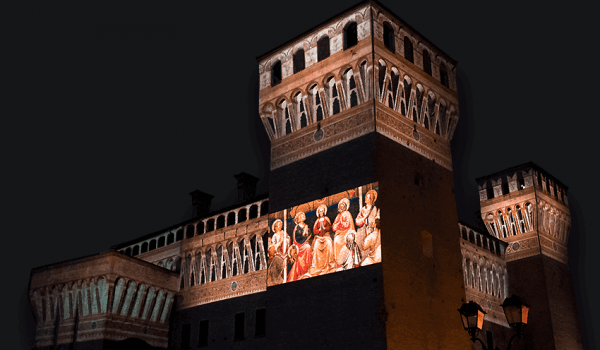 Through the architectural mapping, it is possible to perform extremely precise virtual restoration operations and customized lighting projects.
Three reasons
to choose our projectors
Our projectors stand out for the excellent ratio between brightness and lamp power.
Lenses with anti-reflection treatment and quality optics guarantee always sharp images
Low consumption and running costs
The high luminous efficiency of our projectors allows reduced consumption even for prolonged use. The low price of the lamps (about one third of the cost of the lamps of a video projector) allows low running costs.
The opinion of our customers
Our customers choose us because we only produce Italian products, for our customer service and for the performance of our gobos and projectors.
All the reviews you read are certified by "Trusted Shops".
CONTACT US NOW
FOR A QUOTE
Send your request for a quote and we will get back to you within a few hours!