Projectors for
Christmas projections
The streets, monuments and buildings of the city light up with Christmas themes even at great distances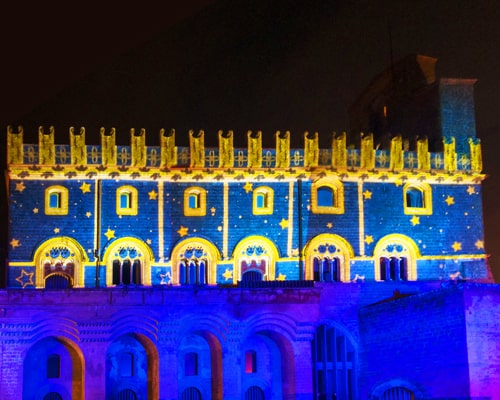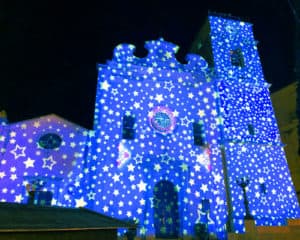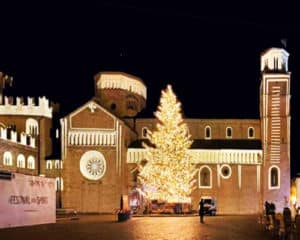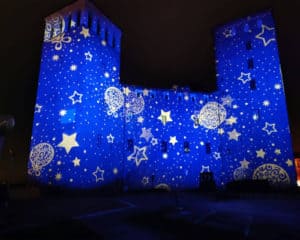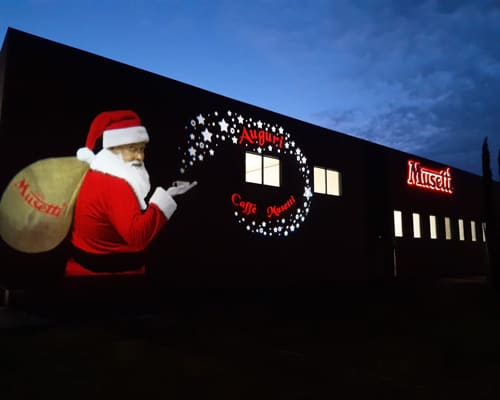 choose the most suitable projector
Goboservice's wide range of outdoor Christmas projectors for large-scale Christmas projections, available for both sale and rental, consists of by the Divum and Signum series of Led projectors and the Golux series of discharge lamp projectors.
Used in numerous locations in Italy and abroad – some of the most prestigious include Piazza del Duomo in Milan and Trento, Palazzo della Regione and Palazzo Gran Guardia in Padua , Piazza Cavalli in Piacenza, Palazzo del Popolo in Orvieto, and the cities of Empoli and Alba-they are appreciated for their incredible brightness and at the same time for their lightness and manageability.

For Christmas screenings, we recommend you choose from the Golux Plus, the Divum and the Signum.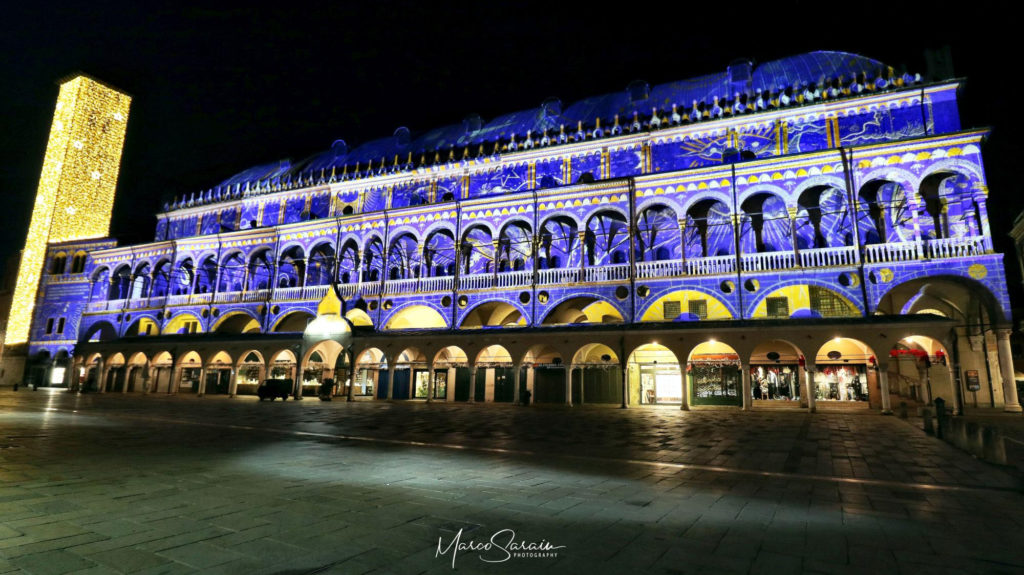 The extremely bright, efficient and versatile Divum Christmas projector series is reconfirmed as the top of the line.
Divum is the result of the spirit of innovation of the Goboservice R&D team, whose primary goal is to improve performance without affecting consumption. Divum constitutes a convenient source of illumination – in terms of energy consumption – which succeeds in providing important savings margins without affecting the quality of the luminous fluxes. Divum thus stands as the brightest and most efficient projector in the Christmas projector category.
Divum is the IP54-rated series of high-efficiency outdoor LED projectors including the Divum 30K (32,000 lumens) and Divum 50K (50,000 lumens) Zoom. The Divum 30K equipped with a 32,000 lumens Led and optics of extraordinary brightness and definition, is the ideal projector for permanent Christmas projections on buildings, churches, monuments thanks to a bright and uniform beam that allows its use even up to 50 meters away .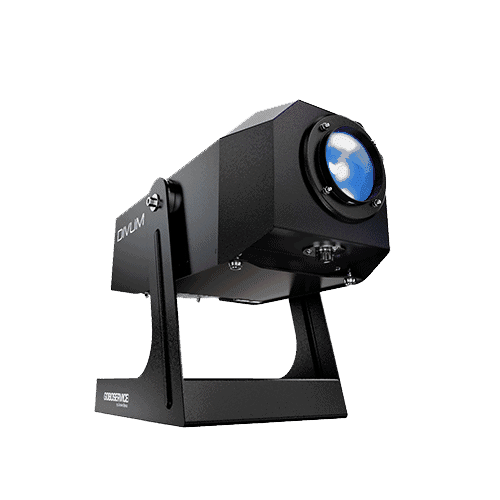 Divum, among its rivals in the Led Christmas projector category, clearly stands out in terms of brightness, ranking first in terms of efficiency. , The Divum 50K equipped with a 50,000-lumen led, 8°-53° zoom, dmx control, image change, animation disc, is a power led projector from the highest versatility of use.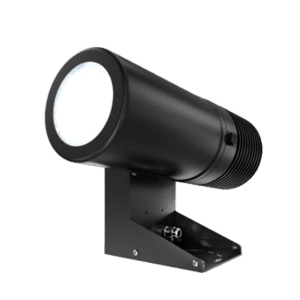 Signum is the small but very bright LED projector, ideal for projecting individual Christmas-themed images. With a consumption of only 50W, but thanks to an extraordinary efficiency, it can be used for projections even up to 20 meters away.
IP65-rated, it can also be used for indoor projections.
Golux Plus is the most efficient discharge projector on the market, with an incredible Zoom for increasingly spectacular large architectural and Christmas projections.
Gobo changing is managed via App, available for free for iOS and Android, which allows to create numerous scenes with different sequences and projection times for each gobo and set the DMX address.
The Golux Christmas effects projector is therefore distinguished by:
Maximum brightness: High-efficiency optical system that takes full advantage of the 92,000 lumens of the 1000W MSR Gold lamp;
Wide-range zoom that allows the projector to be used from both long (up to 800 meters) and short distances;
Lightness: Aluminum body and electronic ballast result in a weight of only 15kg.
Each Christmas projector can be configured with a rich assortment of accessories such as rain protection , interchangeable optics, pole bracket or from the wall, profiler, prismatic lens . Different effects of falling snow and falling stars on colored backgrounds are available.
Goboservice offers a brief guide to facilitate the choice of the most suitable Christmas projector model for every need
For more information on hiring Christmas projectors, contact us .
All Goboservice projectors are manufactured in Italy and are equipped with the HDP (HighDichroPerformance) system for maximum exploitation of the light emitted by the lamp which therefore allows high performance and energy savings.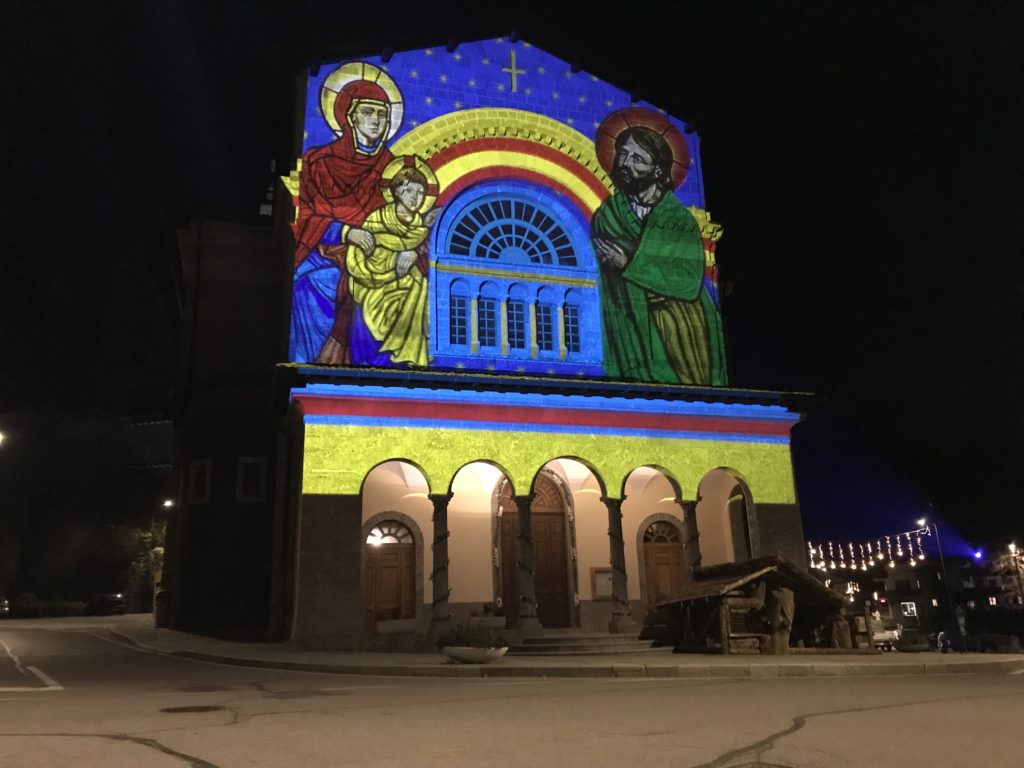 Our high-power and state-of-the-art projectors are capable of illuminating even the largest and most complex architectural spaces. Our gobos are made of high quality materials, ensuring sharp details and vibrant colors in the projections.
Our experience in the field of Christmas screenings and art mapping allows us to offer professional advice for each project. Our team of experts will help you select the projector and gobos that best suit your needs, creating unique projections.
We work closely with Italian municipalities, ensuring a perfect integration of our lighting solutions within the architectural context. We are proud to have helped transform many Italian cities into fascinating Christmas scenes and to have brought the art of light projections in prestigious buildings around the world.
Just some of the countless lighting projects created for Christmas.
Breathe the Christmas atmosphere among the trulli of Alberobello.
Christmas arrives in Trentino by illuminating its buildings.
The center of Rovereto becomes a small Christmas village.
CONTACT US NOW
FOR A QUOTE
Send your request for a quote and we will get back to you within a few hours!