The last knight flew to Chile on a Mythos, armored with the new Gobos Platinum of Goboservice. A stellar campaign requested by the Ripley company for the launch of his new Robot Trasformer, The Last Knight, all over South America starting from the city of Santiago where, on the night of the 18th of May, the Ripley Transformers Night took place.
From the Costanera Center, the continental bigger shopping centre, to the Moneda palace, Chilean government headquarters, Icardi Service has given birth to ephemeral but suggestive sceneries on various areas of the city, projecting the enigmatic image of the dark knight along with the corporate logo. From the Victorian-style villas to the futuristic skyscrapers with tree boulevards, to end up in more different public spaces; wherever there was a simple wall available, the face of the steel knight made his sudden appearance.
The organizers of the initiative have succeeded in the challenge, which result was not taken for granted. In fact, it was hard to amaze the inhabitants of Santiago, one of the most modern and lively city of America, accustomed to live in contact with special effects. But no one expected an immediate, communicative, guerrilla action of this reach, and the effect was disruptive.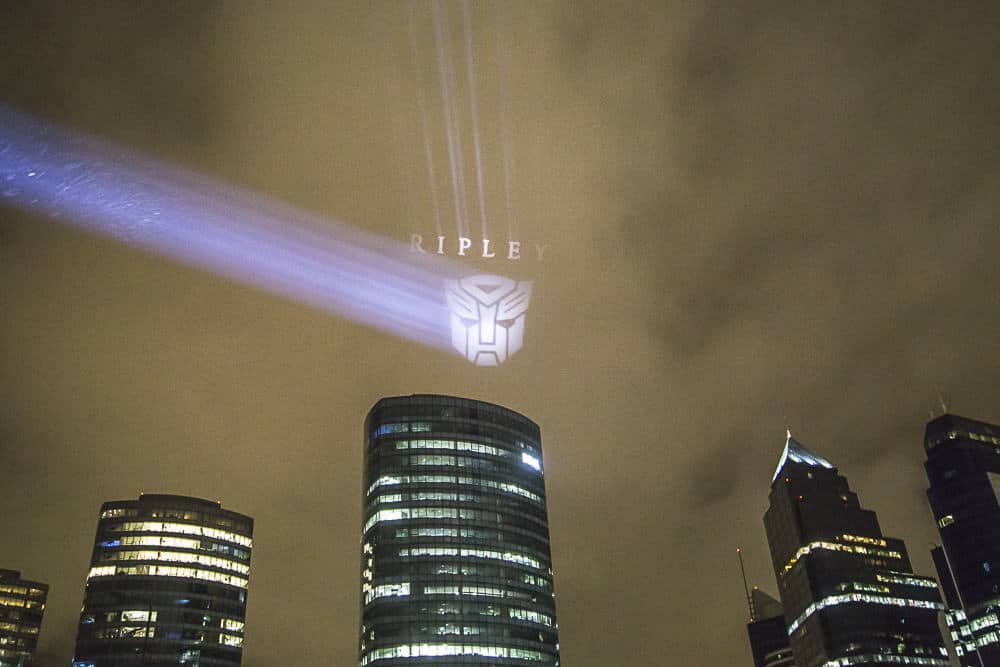 The images went straight from the streets to the social with the very much followed Transformers Chile Facebook Group , event amplifier and collector of judgments and impressions.
The fans of the mythical robots save planet saw their last hero projected even on the clouds.